Awards 315-337-0700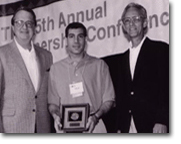 Total Quality Commitment Award
1994 - This award from Wheaton World Wide Moving is based on points earned in the areas of customer service ratings and data pertaining to claims, safety and estimating accuracy. Points were also earned for development of an internal quality control program and for recognizable improvement in various categories of performance.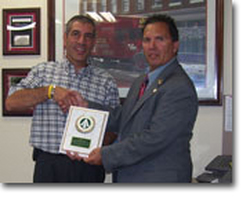 Certified Moving Consultant (CMC)
Felice is proud to have one CMC that handles all its sales. To obtain the CMC designation, our sales representative completes ongoing training in the moving and storage field. We are required to complete a minimum of eight hours continuing education and training to become re-certified. The training must relate to our position in the moving and storage industry.

2007 Green Arrow Award—Northeast Region
NTS TSP of the Year
The Green Arrow Award recognizes a non-temporary storage transportation service provider (NTS TSP) to the U.S. Department of the Army for exemplary performance. Selection is evaluated on inspection reports, claims, complaints, suspensions and overall service. Among the top ten companies earning this award, Felice Moving & Storage was selected as NTS TSP of the year.

2018 Business of the Year Award
Rome Area Chamber Of Commerce
In grateful recognition of its more than 85 years of service in the moving industry and for the re-investing in the continued growth of Rome.